The original Okaloosa Island Fishing Pier was built in 1972 and extended 962 feet into the Gulf of Mexico. Sadly, Hurricane Erin (1995) destroyed the original pier. The current pier opened in 1998 and Extends 1262 feet out into the Gulf of Mexico.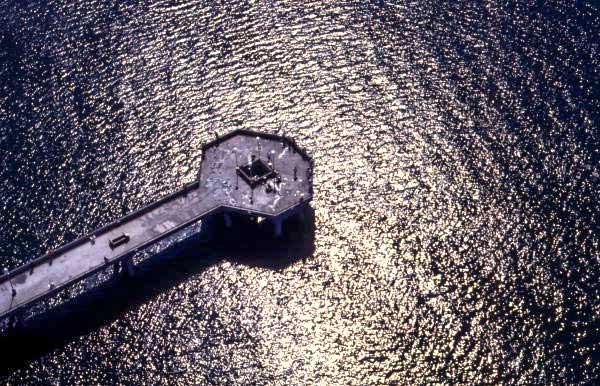 An octagon was installed at the end of the pier to greatly increase the fishing area and ease the process of reeling in the big one. Our claims to fame are the Large Tarpon, King Mackerel, Cobia and Black Fin Tuna we catch from our pier.
You don't have to spend thousands of dollars and go way off shore to test your skills against some of the largest fish in the gulf.
Tarpon weighing over 100 pounds, Black Fin Tuna, King Mackerel, and Cobia are all ready to test your strength and abilities.
Sailfish, while very rare have been caught off the pier as well. One year none of the boats entered in the annual Destin fishing rodeo could match a 42-pound king mackerel caught on Okaloosa Island Pier.
Other large fish include Red Drum, Bonito, and Jack Cravelle. Spanish Mackerel, Whiting, Ladyfish, and Bluefish are among normal catches. Some anglers fish exclusively for the tastiest game fish in Florida... Pompano.
For sheer enjoyment, it's hard to beat light tackle and hooking into Ladyfish and Blue Runners.
Located at the base of the pier is our tackle shop. We carry artificial and natural baits that have been time tested to provide the best results off the pier. Ice, sodas, beer, snacks, ice cream and sandwiches are available if you prefer not to fish and take a walk to enjoy the scenery. Spectators are always welcome.
Come see dolphin in their natural environment. Many people come out to in watch the sun dipping into the Gulf of Mexico each evening. Access to the world's most beautiful white sugary sand beaches is just a few steps away.